It is NOT hard to find beautiful inspiration on the internet… It IS really hard to pick just one. The last couple of weeks we showed you just a couple of CHA sneak peeks… Here's a scrapbook page that uses LawnFawn stamps, papers and dies from their newest release!! It's by Nichol Magouirk and holy cow! It's fantastic!!
Check out the full post with close up shots of all those stars HERE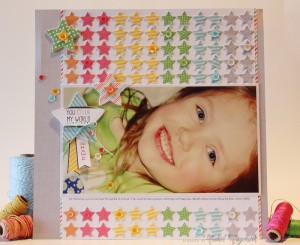 We've got 2 upcoming crops on the calendar!! Friday, January 31 from 6-midnight and our Superbowl Super Saturday on Saturday, February 1. Check out the calendar over on the right of the screen!! And, if you have a group of friends that want to crop on a day that there's no crop scheduled, please contact us, we may be able to accommodate your group!!
Also, remember if you're going to shop on Amazon
, start with our LNC Amazon Link
… Anything you purchase through that link helps us, but doesn't cost you anything extra :)