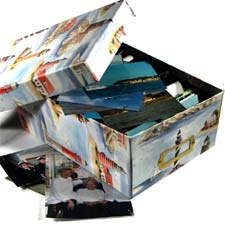 Have you checked out the details of our first Shoebox Swap?? If you missed our post about it… Check this out…
A few of our croppers approached us recently about hosting a shoebox swap. The idea of a shoebox swap is that at the end of the day, each participant walks away with 12 of finished projects. Each person designs a paper craft item – one A2 (or larger) card or gift card holder, 3 tags, treat bag or something we haven't thought of* – and then prepare enough materials for each member of the group to each make one of your item. After doing a little research, we've determined the guidelines below for our first LNC Shoebox swap. Signups for this event will be capped at 12 people.
Who: All Papercrafters
When: Sunday November 9 – 10am-3pm
Cost: $25 (includes lunch)
Guidelines:
Please plan your project to be something that can be completed in 5-10 minutes.
Precut and pre-score all cardstock and necessary elements of the project. We just want to sit down to assemble the project.
All elements of the project must fit in a bag or envelope.
All items should be pre-stamped. If your stamped image is colored in some way, please bring the appropriate coloring supplies.
IF your project requires special adhesive, i.e., glue dots, two-way glue, you will need to provide it.
Label all materials, tools, etc in your shoebox with your name/initials just to make certain they don't get lost.
Please have all cardstock, ribbons, etc. scored/precut and provide everything needed to assemble your project (except basic adhesive and scissors). Everyone will use their own basic adhesive and scissors.
Make one sample that will be placed inside your shoebox.
Label your shoebox with your name.
Cards should be A2 or larger and must include an envelope.

A2 Envelope size – 4-3/8" x 5-3/4"
A2 Card paper size – 5-1/2" x 8-1/2" (half a letter sized sheet)
A2 Finished card size – 4-1/4" x 5-1/2"

Tags must be at least 2″ x 3″ but can be larger and include some sort of ribbon, twine, yarn, etc of a reasonable length allow the tag to be affixed to a package.
Please use at least 2 layers, and add an embellishment of some sort (buttons, wire, stickles, crystal effects, etc.)
Create something that you would love to get back in return.
 Click Here to sign up for our first shoebox swap! 
*If you have a project that we don't have listed, please run it by us.
**PS: this is our first one so bear with us ;) Please do not hesitate to reach out to us if you have any questions!