With everyone going on fabulous summer vacations (or thinking about fun vacations you've been on in the past), we wanted to point out a website we love called Scrap Your Trip!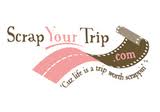 We love the amount of Disney themed papers of course!! BUT they have specific papers for nearly every vacation you can think of… And, if you're doing something "odd" for vacation, they will even print custom paper for you!! How great is that??
Now that you have your fabulous new paper, come and scrap with us!! We've got air conditioning (yeah!! It's finally warm enough to use it!!) and would love to see you soon!!!
We've got crops coming up on:
Friday, June 27
Sunday, June 29
Friday, July 11
and our Super Saturday, "Christmas in July" crop on July 19!! We have just a few spots left for this one, so let us know asap if you want to be included!!
Also… Remember that if you and a group of friends would like to crop on a specific day, just let us know!! We'll be happy to put it on the calendar and see if we can get a few more people!!